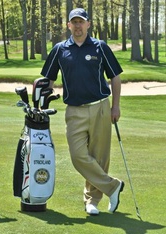 Stonebridge offers private golf lessons for both adults and juniors.  Our staff are PGA Class A Teaching Professionals.
Playing great golf requires much more than patience and practice.  Perfecting your game involves constant critique and analysis of how you are using your strength, flexibility, and natural talent to improve your game.
Whether you are looking for private golf lessons to learn the game as a beginner, or you are a seasoned player, Stonebridge golf professionals bring the skills, knowledge, and patience necessary to get you started and fine-tune your game to shave those extra strokes.
The basic philosophy behind the teachings of our golf professionals is "Keep it Simple." Students need to have feedback while getting instruction, but in a way that they can learn and not be forced into certain swings. Our golf pros like to assist a student with the swing and fine-tune it so that the game of golf can be more enjoyable for players of all abilities.
Private Lesson 45-Minutes
Private Lesson 9-Hole Playing
3 Lesson Package
$
195
Three 45 minute lessons
6 Lesson Package
$
375
Six 45 minute lessons
Junior Lesson - 45 Minute
Junior Lesson - 9-Hole Playing