Two Person Scramble Skins Game
NEXT GAME:
SUNDAY, JUNE 11 @ 8:30am
$185 per Team | Includes $20 Skins | 8:30am Shotgun Start |
All
CASH
Prizes
DETAILS:
Fee is per 2-person team and includes $20 per team mandatory skins buy-in
18-Holes with Cart (one cart per team)
LIVE in Cart Scoring with Skins & Team Scramble Leader board!
GPS Equipped Carts with in cart USB Charger
Two Person Scramble Format
No golf professionals of any kind (Tour, mini Tour or PGA)
No individual who has played in a PGA Tour qualifying tournament
No requests for foursome pairings. Foursomes will be random.
Men play from White Tee, Women from Silver Tee, Seniors (60+) from Yellow Tee
An email will be sent out to the each team the day prior with a link to team pairings and the live scoreboard portal: PAIRINGS & SCOREBOARD
Frequent Player Card Holders receive $15 off tournament fees. For more information visit our Frequent Player Card details page
GUARANTEED TEAM PRIZE CATEGORIES
First Place Team - $600 cash per team
Second Place Team - $400 cash per team
Third Place Team - $300 cash per team
Closest to the Pin#12 - $50 cash
Closest to the Pin #4 - $50 cash
Longest Drive #13  - $50 cash
Longest Drive #5 - $50 cash
100% SKINS PAYOUT* in addition to the Cash Prizes listed above

Cash Skins payout varies at $20 x Number of Teams Registered
RULES:
Two person scramble will be the format which means each player from each team tees off, the best tee shot is selected and both players will play their second shots from that spot. The best second shot is determined, and then both players will hit their third shots from that spot, and so on until the ball is holed. You are allowed one club length, staying in the same playing area, when placing ball next to partners ball (for example if in rough you must stay in rough),
NO
 closer to the hole. Allowed one putter head length on the putting green when placing ball next to partners (
NO
closer to the hole). All USGA Rules Apply and all rulings will be final per our PGA staff.  No refunds, rain checks only. * In the event there are no skins, all skins money will be donated to The Ronald McDonald House Charity of Ann Arbor.
JOIN US AND EXPERIENCE OUR TOP 10 RANKED PUBLIC GOLF COURSE!
as see in the Detroit Free Press, August, 2022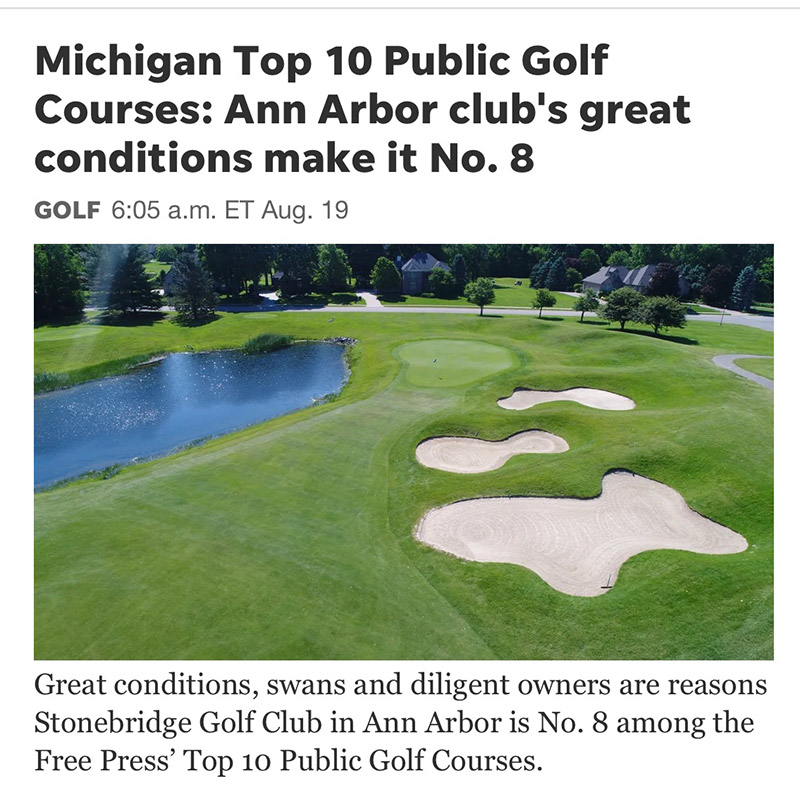 ---
SCHEDULE OF 2023 TOURNAMENTS
Pricing, prizes, format and start time may vary. This page will always describe the tournament details for the date in bold at the top of the page.
Saturday, April 1, 2023 @ 10am (RAIN OUT)

Sunday, April 16, 2023 

Sunday, May 7, 2023 @ 9am  (SOLD OUT)

Sunday, May 21, 2023 @ 9am

Sunday, June 11, 2023 @ 8:30am REGISTRATION OPEN!

Sunday, July 9, 2023

Sunday, July 30, 2023

Sunday, August 13, 2023

Sunday, August 27, 2023

Sunday, September 10, 2023

Sunday, September 24, 2023

Saturday, October 14, 2023

Sunday, October 29, 2023

Saturday, November 11, 2023
CANCELLATION POLICY:
If Stonebridge cancels the event due to severe weather, a credit will be issued to the account from which the registration was made.  Accounts are created with the email address the customer provided at registration. Credits may be used toward future rounds of golf or to pay for a future tournament. Golf credits expire at the end of the calendar year.
If a customer cancels within 48 hours prior to the start of the tournament, no refunds and no credits will be offered.
REGISTRATION FOR OUR UPCOMING TOURNAMENT:
If you, or your partner, have placed in the top 3 more than once over the last 60 days, you must wait  90 days to compete again.